Rigidur Flooring Elements offer the perfect surface for all coverings.
Sometimes it is necessary to meet particularly high requirements in terms of robustness, fire protection and sound insulation. In such cases, the Rigidur range can always provide the right solution – naturally also when it comes to floors.
They can be supplied with laminated layers for high footstep sound insulation and are extremely well-suited for fire-proof structures. An ideal combination of advanced technology, living comfort and safety.
Ideal for new buildings, renovation work and the refurbishment of old buildings
Prefabricated elements allow easy installation
Simple levelling with Rigips levelling compound
Quick, clean and dry solution
Suitable for furniture casters
High surface hardness (35 N/mm2)
Ideal fire protection for all wooden beam ceilings
Dry screeds for all possible floor coverings (textile, cork, wood parquet, linoleum, PVC, tiles...) can be created quickly, cost effectively and cleanly using Rigips Flooring Elements. They enable the creation of a perfect, flat surface which can be walked on immediately, allowing you to proceed directly with the next working steps. They also offer a significant improvement in heat/footstep sound insulation and achieve fire safety values from F 30 to F 120.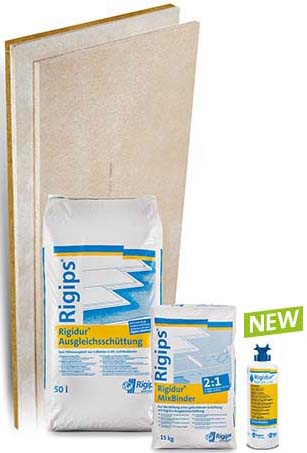 Suitable for a wide variety of floor coverings
✓ Suitable for under-floor heating systems (non-laminated Flooring Elements)
✓ Can be used in domestic rooms with high moisture levels
✓ Tailored to sound/heat insulation and fire safety requirements
✓ Low static load for existing ceilings
✓ Quick and dry installation
✓ Low height
✓ Quicker installation through double nozzle
✓ Pollutant-free and advantageous in terms of building biology
NEW: Rigidur Flooring Elements 45 MW and 65 MW
The Rigidur Flooring Element 45 MW (structure: 2 x 12.5 mm Rigidur + 20 mm mineral wool lamination) and Rigidur Flooring Element 65 MW (structure: 2 x 12.5  mm Rigidur + 40 mm mineral wool lamination) products offer further advantages:
Improved sound insulation in various structures up to 31 dB
Greater heat insulation
For applications in residential and office buildings

And there's even a Rigidur solution for uninhabited attics to ensure the living spaces below are well-insulated: Rigidur attic elements 032 TF
>> More information on this topic can be found e.g. in the downloads to the left...