Advantages: Rigidur gypsum fibreboards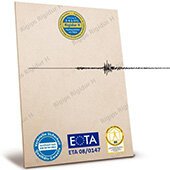 Stable:
Virtually no other drywall construction material is as stable as Rigidur. Public buildings in particular require extremely high levels of stability. Rigidur also enables loads such as shelves or cupboards to be attached directly to walls with ease.
Flexible:
The flexible sizes ensure non-standard room heights or application areas can easily be accommodated. Standard and special formats such as Rigidur XXL with dimensions of 6,000 x 2,500 mm are possible, permitting joint-free wall/ceiling surfaces up to approx. 15 m².
Healthy:
Rigidur gypsum fibre boards have been classified as "building materials tested and recommended by the IBR" by the Institute for Building Biology. These products are free of formaldehyde and binding agents, making them ideal for creating a healthy indoor climate in residential and working areas.
Smooth:
Rigidur boards offer an extremely smooth and unbroken surface – without protruding fibres or grinding marks. This makes them ideal for premium-quality follow-up coatings.
Hard:
Rigidur H boards have hard surfaces and are therefore resistant to everyday mechanical stresses such as knocks and scratches.
Clean air:
The entire Rigidur H gypsum fibreboard range offers natural air cleaning power as standard.