Gypsum fibreboards: Rigidur
The Rigidur product range offers special properties and a wide range of accessories for floor, wall, ceiling and roof applications. Thanks to an innovative production process, Rigidur boards - made of gypsum, paper fibres and natural additives - not only meet the requirements for state-of-the-art drywall construction materials, but also have a pleasantly smooth, yet hard surface.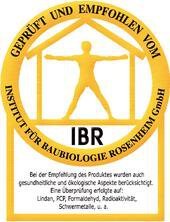 This makes them suitable for universal use as construction, fire-proof and damp-proof boards, as well as roof and flooring elements , while guaranteeing professional sound insulation, high strength and good processing properties. The Institute for Building Biology (Institut für Baubiologie - IBR) in Rosenheim has certified Rigidur gypsum fibreboards as a construction material recommended in terms of building biology.
The comprehensive range of products offers you maximum flexibility: In addition to compact and small-format boards in various thicknesses and lengths for supporting wall structures, the range includes Flooring Elements with and without laminated layers and attic elements to optimize building energy requirements. The Rigidur accessory range comprises fillers, joint adhesives, reinforcement strips, levelling compound and drywall screws for all floor, wall, roof and ceiling structures to ensure a consistent system for optimum results.